Yes. It was as sweet as it sounds. Not only was the arch totally beautiful by full moon light, but it turns out arriving at 3am ensures that you are the only ones there to enjoy it. There were plenty of dimly-lit photo opps free of other hikers, and we were free to lay under the arch and stargaze as long as we liked without feeling the need to give other hikers a turn.
The weather was perfect (no jacket necessary), and the full moon afforded plenty of light so very little headlight action was needed. So nice. And, bonus! We saw several little frogs along the hike. I doubt our day-hiking counterparts get to see those little guys in the hot sun. However, something tells me that seeing frogs at 3 in the morning may be slightly more exciting than it would be to see them at reasonable hours of the day.
I developed a strange affinity for
cairns
on this trip. I think they're pretty, not to mention totally useful -- two of my favorite criteria for rating things on my likeability scale. Who doesn't love things that are useful and good looking?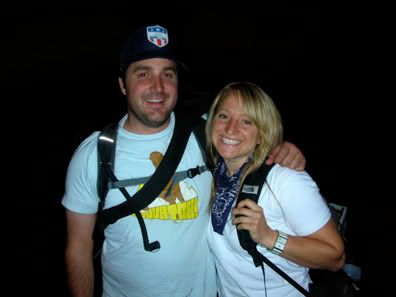 Me and Mr. Matt Cobabe before the hike -- the night mode on my camera does a great job of lighting subjects in the foreground, but, as demonstrated, the background is kind of invisible. It was red rock. And I'm pretty sure the bathroom was off to our left.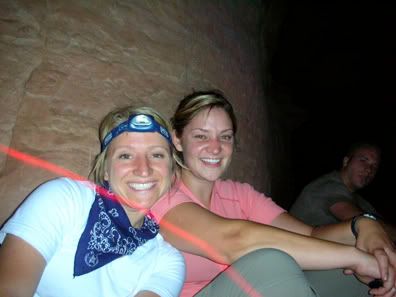 Me and Tara relaxing on the rim of the bowl before hiking over to the arch.
A shot of the group on the rim of the bowl -- compliments of Matt and his super awesome camera. The time exposure captured enough light to make it look like day time. We had to hold still for 30 seconds to get this shot.
From left: Jordan, Tara, Brian, Adam, Matt and me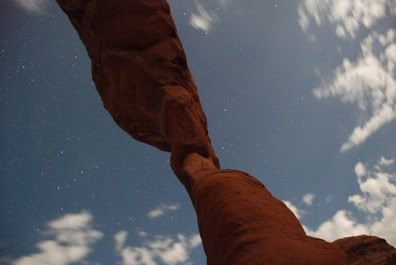 The view looking up while laying under the arch. This was my favorite view of the trip. The arch was mammoth and completely awe inspiring. Big things always make me feel so...little.
The white specks in the sky are the stars. Again -- thanks Matt for your awesome photo.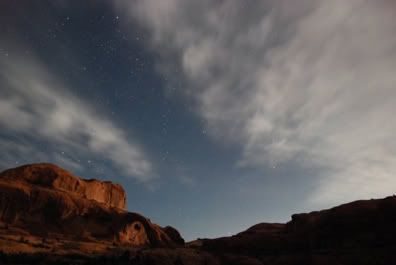 More sweet long-time-exposure photos from Matt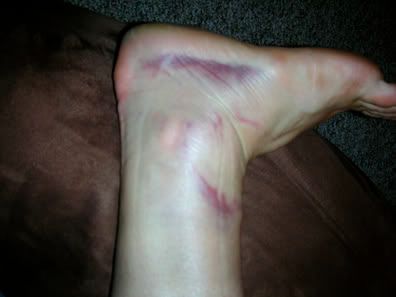 I made the hike with this sick-looking sprained ankle. Don't worry -- I got this beauty last Monday while I was walking outside to take down my hammock. Little to my knowledge, the sidewalk to grass conversion area can be pretty treacherous. ew. I rate this sprain a 6 on the severity scale. It barely hurts at all when I walk, but it kills on the surface when I touch it. Weird, huh? I really need to start doing ankle-strengthening exercises.