Working full time means that lunch time is coveted hour that I usually revel in. If I can walk to my place of eating, it's even better. And if I can read on the way, I'm in heaven. One of my favorite places to meet up with Marie is Pizzaria Seven Twelve. Sad for the restaurant, it's housed in an uncompleted building on State Street in Orem. But happy for me, it's a 3 minute walk from my work, and it is charming. The food is Italian inspired, and a chalk board on the wall houses one of my favorite quotes. I'm not sure of the exact wording, but it says something like "If you cook with good ingredients, you can cook simply and it is delicious becuase the food tastes like itself." Intuitive for most, I'm sure, but I like the simple truth it tells.
I love the atmosphere of Pizzaria Seven Twelve, so I took some photos to share last time Marie and I were there. My favorite features of the restaurant include delicious Euro-American food, white dishes and petite tables. It really is charming.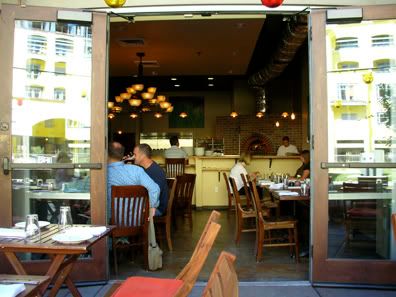 View of the inside of the restaurant from me and Marie's seat on the patio.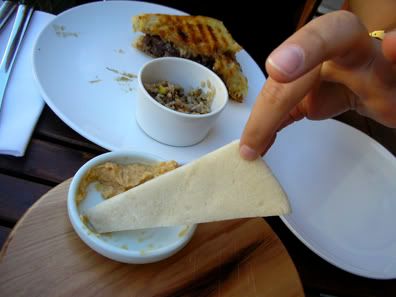 They bring out fresh, in-house made pita and hummus as an appetizer free of charge with every meal.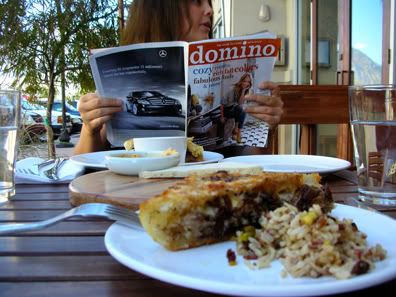 This captures the atmosphere. Me. Marie. Pizzaria Seven Twelve. Domino magazine. How could this not be a wonderful occasion?
The meal. Marie and I shared some sort of braised beef and mushroom with cheese pannino. Needless to say, it was delish. And the side dish of rice came with dried blueberries in it -- a lovely little palatable surprise.