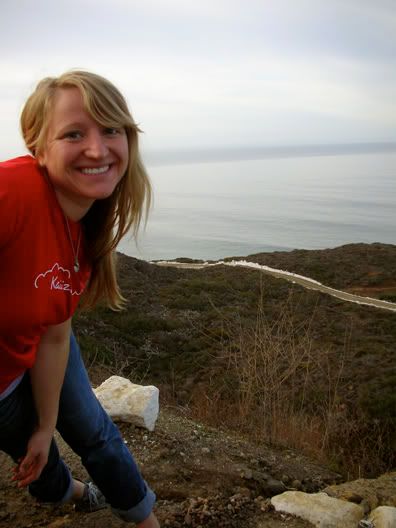 Last weekend I went on a humanitarian trip down to Mexico with a charity group called
Kaiizen
. We brought Christmas to an orphanage down there (santa and presents included), and brought rice, beans, hygiene kits and tons of other miscellaneous goods to a local neighborhood in Ensenada. It was totally rad. I never ceased to be amazed by how beautiful the Mexican people were. Old and young. Beautiful skin. Deep brown eyes. And elderly people with wrinkles that could tell a thousand stories. Just so beautiful.
My only regret for the trip is that I didn't spend enough time with the kids at the orphanage. I organized presents, put together charity packages, painted beds, served food, did crafts, handed out charity packages, participated in a variety show...but just didn't get enough chill face time. Next time I'll definitely be making that more of a priority rather than just hanging out behind the scenes. Overall, though, It was an incredible experience filled with smiles, fun, hard work, a cold community shower, a near collision with a cement barrier, awesome new friends and chilly sleeping-bag feet :)
SIDE NOTE: I developed a new love during this trip: Sleeping on the beach under the stars. Seriously, no experience like it. While in Ensenada, we slept two nights on a private beach, and I fell in love with waking up to an ocean-front view. I would open my eyes to the sight of the clear sky, with the smell of the salt water and sound of the waves. And then just sit up while still snuggled into my cozy little sleeping bag and just stare out onto the ocean, watching the pelicans glide over the top of the water. So amazing. Pleasing for all senses. And the best part was I was surrounded by people I loved. I don't know if it gets better than that. Just so idyllic.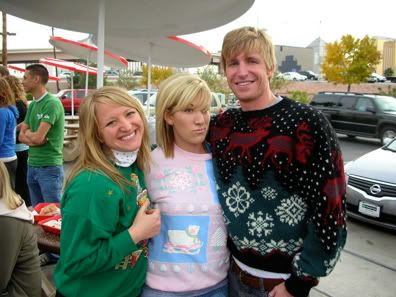 Ugly Christmas sweater contest on the drive down? check.
Nicki and Robyn eating shakes at In-N-Out? check.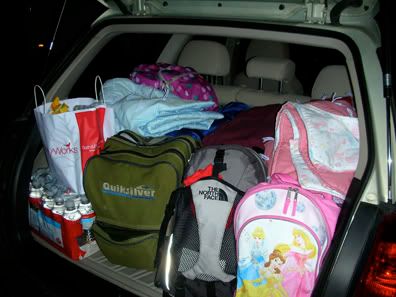 This was the back of the Soob just before we crossed the border. You would never guess there were like 17 presents hidden under all our luggage, huh? I was so proud of our sneekiness. I guess you're not supposed to let the border patrol know you're bringing presents to the orphanage. We were good at that.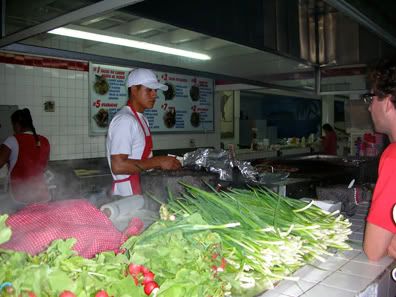 This is the taco stand we ate dinner at after we got to Ensenada. The cooks may not have been wearing gloves, but the tacos were delish.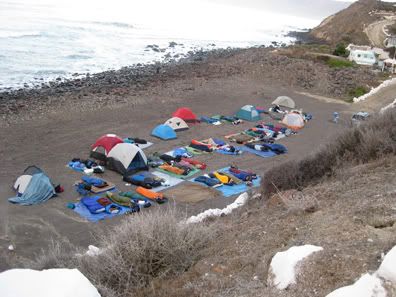 Here's our camp on the beach. See what I'm saying?! SO RAD!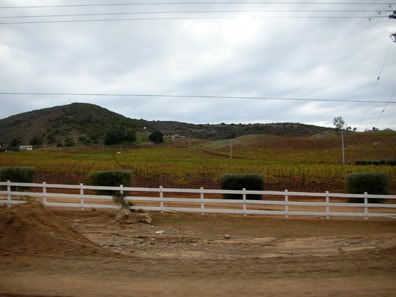 The hilly drive to the orphanage had this charming little vineyard on the way. So pretty.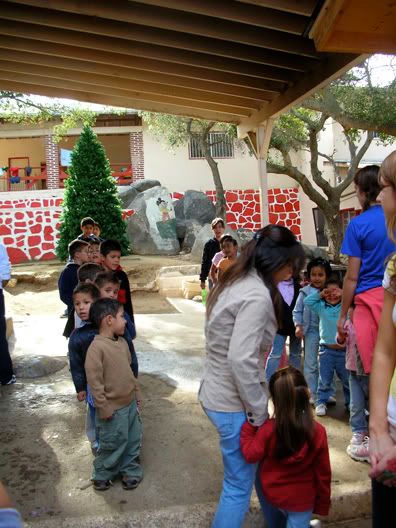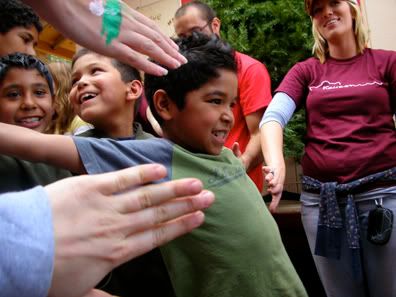 Here are some of the kids giving us high-fives on the way to lunch when we got there. Just before this, they had been standing in lines singing songs (lines pictured above) waiting to go into the dining hall for lunch -- I think they do it before every meal.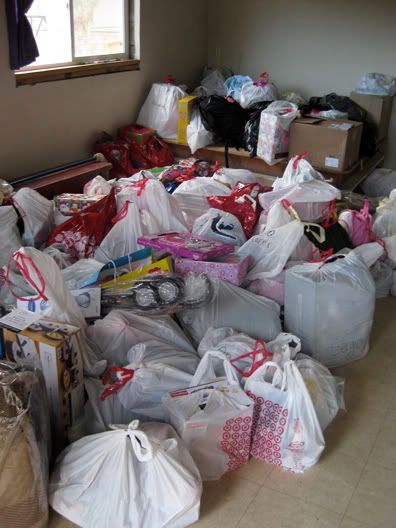 We seriously brought MOUNDS of presents for the kids. The generosity of the people donating the presents was amazing.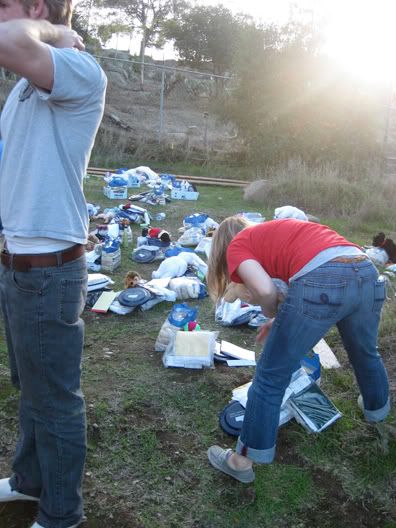 Me and my bum bum organizing kits to hand out to the community, and Tim scratching his back.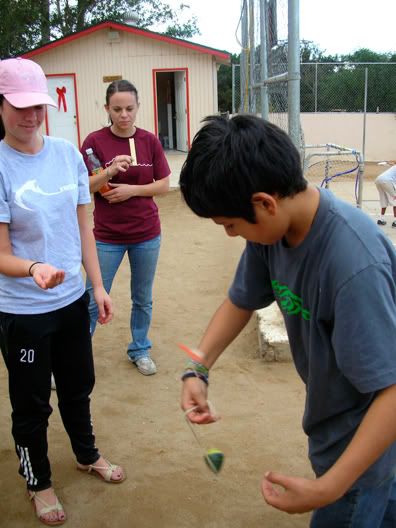 This is Jesus. HE WAS SO GOOD AT THE TOP! It was so impressive. He would whip it behind his back and catch it in his hands and then transfer it to other people's hands and work it on his string like a yoyo. What a babe.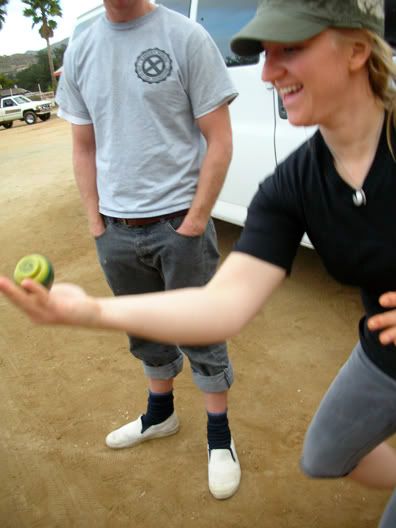 It may not look like it, but I could totally balance the spinning top on my hand -- quite the personal accomplishment.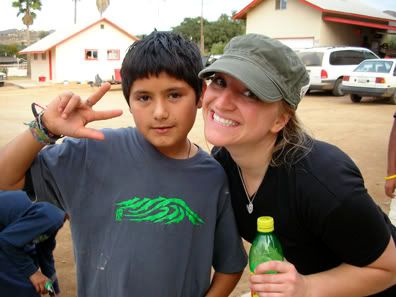 Me and Jesus. Just after we took this pic he showed us where we could purchase tops a the local tienda.
Part of the variety show we put on for the kids. Nothing says fun like unsuspecting pies in the face.
(photo courtesy of Dan Dixon -- one of the trip photographers)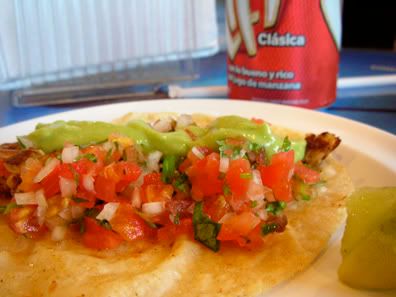 Dinner on the last night in Ensenada. Yum, and only $1.40 each (plus all the free chips, salsa and guacamole you could ever hope for).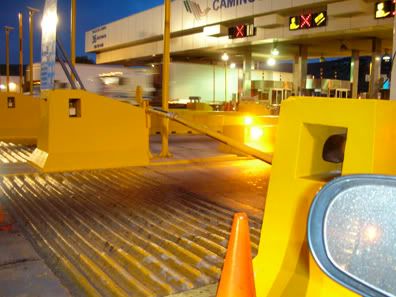 On our way out of Mexico we had to cross through a toll booth. Notice that the toll booth arm has been secured by duct tape after it had apparently sustained an injury.
We stopped at a gas station on the way out of Mexico, and one of the groups in our caravan locked their keys in the trunk of their car. We took advantage of the 45-minute set-back by taking some memory-saving photos.
(From left: Ci Ci, Tashina, Luke, Michelle, Matt, Nicki, Jen, Robyn)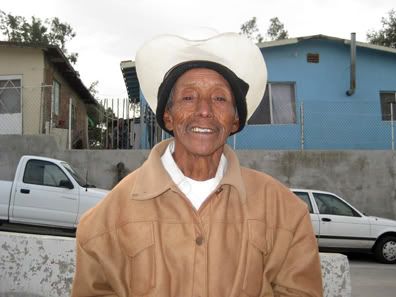 This beautiful old man was selling something on the side of the road next to the border -- a prime location seeing as the cars trying to get across are stuck in line for at least half an hour on their way out. I just thought he was incredible looking. My friend Allison had me take this picture so her brother could paint him.