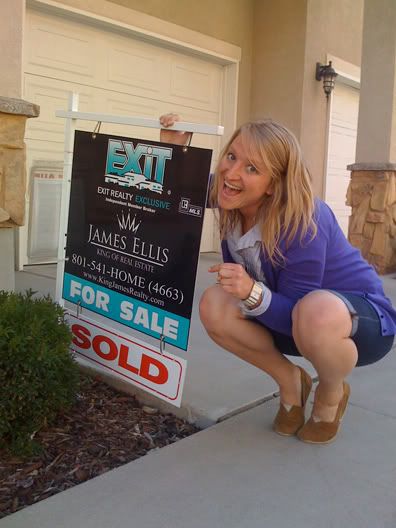 As of this afternoon, I am now the owner of a two-bedroom, two-bathroom condo in south Provo, complete with garage, vaulted ceilings and clubhouse with pool. It's seriously 100 feet from where I live now, so the move should be easy. At just under 1,100 square feet, the condo is the perfect, cozy size, and I love it.
In other news, I won't be moving in for two weeks because sadly (but not unmanageably) the previous tenants cooked a lot of curry, so the place smells. Ick. Looks like I will be doing some serious de-stinking regimens before I move in. Here is the fool-proof de-stink plan I have come up with that I will be executing over the next two weeks:
1
Tuesday-Thursday
Rip out disgusting carpet in the dining and living room areas. Clean walls, filters and all other surfaces like crazy with simple green.
2
Friday
Get ozone treatment in the house. It works by releasing Ozone (O3) into the house -- an unstable molecule, that deodorizes as it converts into oxygen (O2). This is what is used by house-recovery teams to remove smells after house fires, tenants that smoke and flooding.
3
Saturday and Monday
Paint all the walls and ceilings. This is a daunting task, but I think it will Nicki-ize the home in a major way.
4
Tuesday and Wednesday
Put in wood laminate flooring where the disgusting carpet had been.
5
Thursday
Get remaining carpets industrially cleaned (carpets will still be on stairs and in each bedroom and closet)
Then I move like crazy and clean my old place. It'll be crazy busy, but fun. I can't wait till it's done. Stay tuned for before and after pics.