A couple weekends ago, the group of friends took our annual winter cabin trip to the Evans' cabin in the Oakley Mountains (a set of pristine mountains situated about forty minutes northeast of Park City).

NOTE: You can view last years trip in this post.
As usual the winter road wasn't plowed, so as usual the group snowshoed, cross country skied and snowmobiled in Friday night. As usual games were played, group meals were made and we snowshoed up the stream. New additions included an etch-a-sketch competition between Sven and Me, an avalanche awareness crash course from Ali, and no running water in the cabin (but there was a running hose near by, so no worries).
It snowed almost constantly the 1.5 days we were there, which made for some pretty peaceful scenes looking out the windows at night. Love me some good cabin snow.
GAMES:

From top to bottom: Brenna pushing a marble with her nose, the fullest Scrabble game board ever and Sputnik with Annie's fingers throwing the peace sign.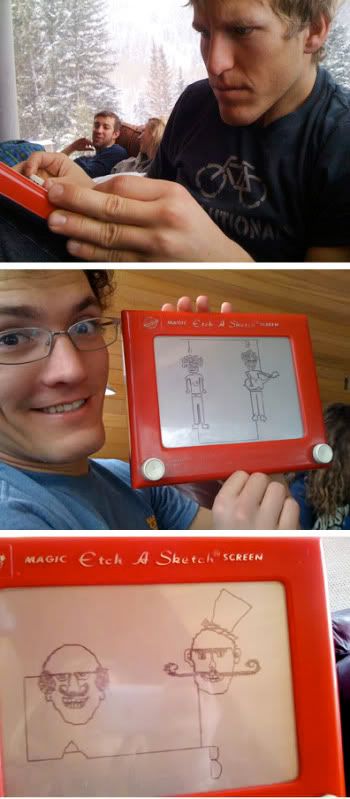 Sven is pictured above sketching feverishly for the etch-a-sketch competition that involved me and Sven drawing themed images, labeling our drawings A and B respectively (and annonymously), and having everyone vote for their favorite.
Final score= Nicki: 1, Sven: 2
First we drew something that I can't remember. Second, we drew Doug (as shown in the middle photo of Doug holding his likenesses), and third we drew a "mustached man," which remained displayed on the mantle for the remainder of the cabin excursion.
OUTSIDE:
Mid day we ventured outside to enjoy things like this...
KPAX in the yard.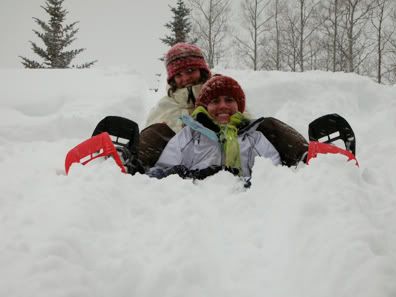 Brenna and KPAX attempting to sled down the much-too-powdery hill.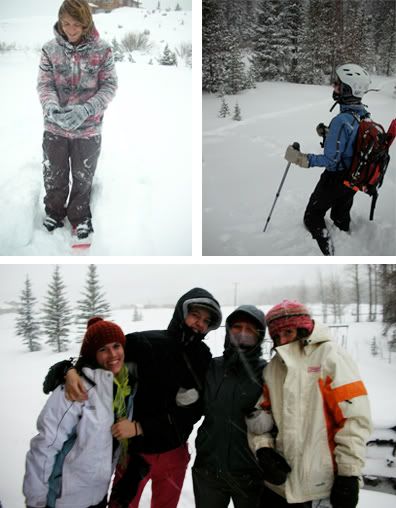 clockwise from top left: Derek after flipping in the snow, Ali looking backcountry-ee, and Brenna, Katy, Nicki and KPAX setting out to snowshoe.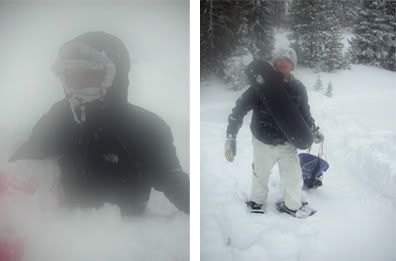 Blurry photos of Katy in the snow and Derek carting the snow-fun toys up the hill taken after I dropped my camera in the snow (well...after
Brenna
dropped my camera in the snow when I threw it at/to her)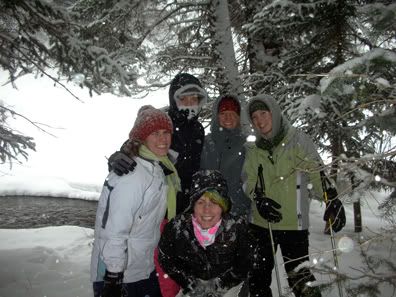 Snowshoeing into a clump of trees.
From left to right: Brenna, Katy, Annie, Nicki, Stucki
RELAXING:
And back inside for the rest of the days we enjoyed views like this...
The cabin's architecture is such that all the weight from the roof is bared by a central column, so the walls are primarily made of large double-paned windows that look out over the meadow and onto the mountain range. Now that's smarts.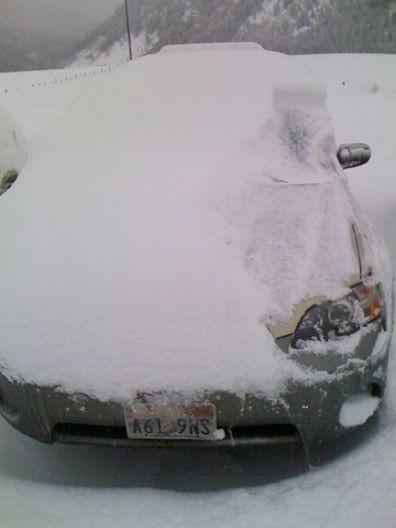 I found my car hibernating after we snowmoblied out Sunday morning.