Before I traveled over to India, my friend who I met up with had the following conversation with me:
"Nicki, here in India, we have an acronym to explain everything that happens; T.I.I. It stands for 'This Is India.' Once you're here, things won't work like you think they will. And that's because T.I.I. This is India. You'll see."
And see I did.
India is crazy, but charming in it's own right and definitely an experience to be had. Three weeks ago I traveled to India for a five-day adventure per the invite of my afore-namelessly-mentioned friend Kristen Kathleen Goodell (AKA, the KKG) who has been living there since January. I flew into Delhi, then made my way slightly south and very east, hitting Agra, Varanasi and Calcutta along the way. There are far too many stories to tell in one measly little blogpost, so pictures with little snippets will have to do.
However, before the pictures, it must be stated that EVERYTHING in India is memorable. Everything. Here are a few of the favs:
- Daily power outages that cause you to walk home from a roof-top-restaurant dinner (with view of grooming monkeys on a nearby rooftop) to your hotel through twisty narrow streets with only a cell-phone light to show the way.
-Buying textiles from merchants who kindly ask you to remove your shoes before entering their stores and sitting on white mats with them to bargain.
- Observing artisans work in tight, dark conditions to produce some of the most intricate textiles you've ever seen.
- Getting caught in a freak rainstorms on the Ganges river, only to make an emergency landing and run back to the hotel through narrow, flooded streets.
- Street merchants selling everything from flowers to fruits to jewelery to pipes to clothing.
- Driving through crowded streets in an auto rickshaw blasting Indian techno mixed with American dance music, all while the driver honks like crazy to get through as fast as possible so he can pick up his next paying customer. And all the while feeling surprisingly safe and happy to get the awesome ride that you bargained him down to 80 rupees (roughly $1.50) for.
- Bright-colored, impeccable clothing on the women.
- Humble, faithful people.
- Quiet, well-behaved children (seriously -- they are SO much cooler than American kids).
Road-side shanty stores on the route between Dehli and Agra.
Sleeping accommodations for us and the Indians outside our window the first night. When we called the hotel in Agra, we asked if they had an AC room that could sleep four people. "Yes yes, of course," the told us. And you better believe we all slept comfortably on that large, round bed. Some Agra residents, meanwhile, slept out on the roof next door; sleeping outside is pretty common over there. Especially, I'm assuming, during "the hot" -- the season just after winter and just before monsoon season.
Sunrise at the Taj Mahal, making it not too hot and not too crowded for our visit. Sunrise is definitely the best time to go. That morning, before arriving at the Taj, I showered to the sound of Indian chanting coming from a loud speaker just outside our hotel window. Talk about a proper welcome to my first morning in India.
In the picture on the right, you will notice a small group gathered taking pictures of Jason (another travel companion) and I. It was the weirdest thing; you'd be posing for your friend, and all of a sudden, 8 people would be taking your picture. Such a crazy phenomenon. A similar thing would happen when Indian children would start conversations with us to practice their English. All of a sudden, there would be an audience, just listening and smiling at us as we spoke. Not in an intruding way, just in a "ya -- we're all in this together" sort of way. Kinda fun.
Detailing around and in the Taj. It really was so lovely. And, built entirely out of love. So, how much more beautiful can it get?
All people walking around the Taj Mahal have to take off their shoes before walking on its grounds. Except for that guy on the right; maybe he didn't see the sign. But, nonetheless, walking on marble barefoot is quite the treat. I'll need to save up for marble floors or something when I'm older.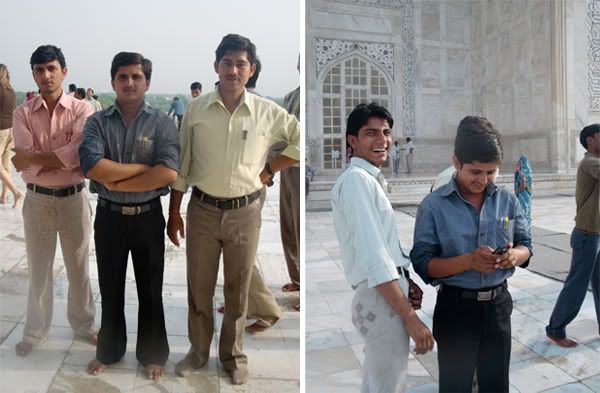 Indian men dress like this. It's awesome. Slacks/pants. Button up shirts tucked into the slacks/pants. Usually a belt. It's rad.
The photo on the left was taken in an "official" type office in the Agra train station. Notice the matchstick holding the "plug" into the socket. T.I.I. On the right, some awesome bikes in Agra -- they were all over.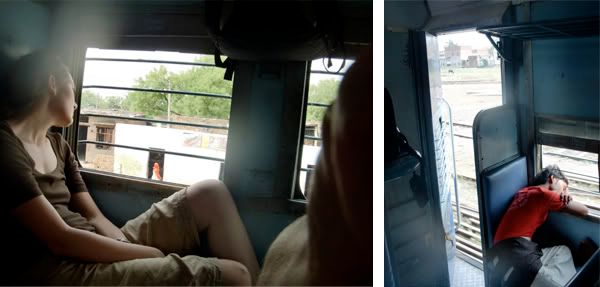 We took a night train from Agra to Varanasi, our second stop, in the general admission car. Unlike the reserved-seating car, the general admission car requires you to muscle for a seat, and snuggle with your neighbor. I was lucky enough to get a seat by the window, allowing me to watch the Indian countryside pass by me throughout the night. It was perfectly warm, and so so peaceful.
On the left is KKG in the morning, sitting in the seat I manned most of the night. I don't think she got much sleep. One the right, a sweet 20-year-old Indian man who took a slap in the face for saving our seats for us while one of our group went to the bathroom. Talk about a saint.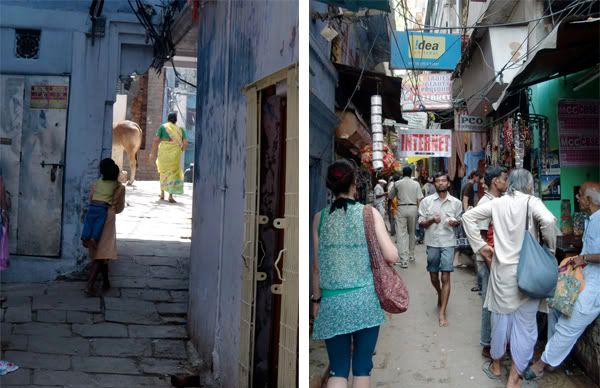 On the streets of Varanasi. On the left is a little girl we spoke with, walking away with her little sister on her back. And on the right, the store-lined, maze-like streets of water-side Varanasi. A little intimidating at first, but not so bad after a little exploring.
Our boat tour on the Ganges River in Varanasi. That cute little clever girl in the photo on the left and two of her friends hopped on our boat before we set out, and they were the best little sales people I have ever met. They were selling these little bowls filled with flowers and a candle that you are supposed to light and float out onto the Ganga (Ganges in Hindi). She called me by name, "Please nicki, please buy this flower. Look, your friends are buying..who is going to buy mine? please nicki..." Seriously. How can you say no to that? Our boatman promptly dropped the kids off after we purchased the flower bowls.
The man at the head of the boat rowed, while the other man in white explained the meaning of the Ganges River, pointed out the temples along the banks and the cremation ghats, and told us stories about the healing powers of the waters.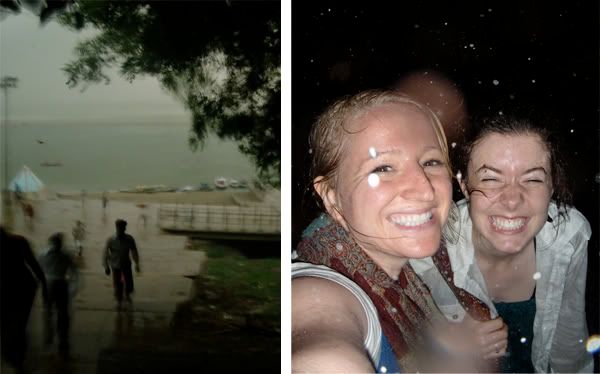 A rain storm rolled in while we were on our boat tour, forcing us to the shore and running for cover. Seriously so fun. On the left is the Ghat (a large set of stairs leading to the water of the Ganges River) that we ran up to seek shelter under a tree. On the right, me and Rosie, a cute girl from London who hung out with us while we were in Varanasi.
Merchants in Varanasi. The man on the left is fixing a shoe. The man on the right is organizing terra cotta cups/bowls. Indians use these similarly to how Americans use paper bowls and cups. If you order a chai tea from a street vendor, your beverage comes in one of these bad boys, rather than a paper/plastic/styrofoam cup. If you get some sort of food product, it comes in a bowl made of dried leaves that have been previously wetted and pressed into a bowl shape. So cool.
Breakfast, lunch and dinner for five days looked very similar to this each time. So tasty.
This was one of the last photos I took. It was taken out our train window on our overnight train from Varanasi to our final stop, Calcutta. The yellow window glass gave the natural Indian landscape outside kind of a cool effect.
PS -- I forgot to mention that India has
THE MOST AMAZING MANGO POPCICLES EVER
. Seriously. They merited that caps, bold text, no question. If ever you are there, they are the ones with the cream centers, and they cost between 20 and 35 ruppes. You won't regret it.