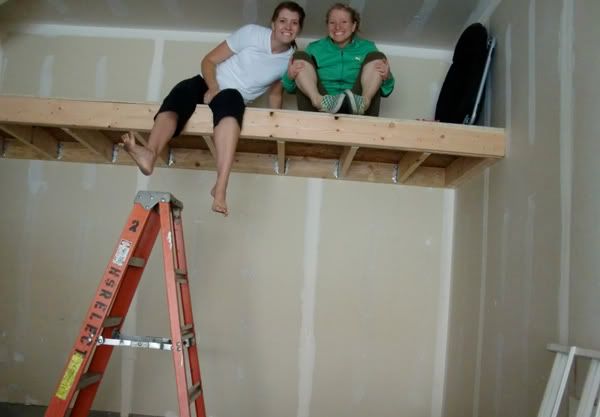 Sometimes all it takes to make me completely content in life is a newly built, large-scale storage shelf in my garage. Such a shelf appeared after an hour and a half's worth of work by my friend Justin two Saturdays ago, and I'm not sure I could have woken up to anything more exciting.
I went down in my pajamas to survey the work that he estimated would take him 4-5 hours. When I got down to the garage at 9:30, the shelf was almost done.
"What time did you start?" I asked. He replied that he had gotten to my house around 8. My quick math told me that was quite the time-work compression.
After hanging on the shelf frame and yanking on it a bit to be sure it was sturdy ("If it can hold me," Justin said, "It can hold anything."), Justin laid the shelf top and put in the finishing nails. I didn't have anything planned till the evening, so I spent the day filling my new favorite house addition with storage from under the stairs. I also took the opportunity to dejunk the contents of my storage boxes and take pictures of things I want to sell on KSL and Craigslist (I still have yet to actually post them).
I'm not sure I should find so much fulfillment in organization, but man, it was a good Saturday.

Left
: The partially filled shelf halfway through the organization process.
Right
: Katy sitting on an inner tube in effort to deflate it. This was the second one she tackled that day.