Havasupai
is like a big outdoor waterpark only way more awesome and completely, breathtakingly beautiful. My good friend Mr. Matt Nelson had a permit for last week and lucky for me he had an extra spot :) It is seriously like a big outdoor playground down there. You start in Arizona and backpack into the Grand Canyon about 11 miles (at least I think it's 11 miles. It's either 11 or 9) and you find yourself in a red-rock oasis speckled with three grand waterfalls and several series of smaller falls. The week included swimming in crystal clear blue water, rock jumping, basking in the sun, attacking rope swings, hiking through greened-out valleys and exploring waterfall floored, tree-canopied jungles. Man, does it get better than that? I submit it does not! And to top it off, I totally packed out my backpack up the 2-mile switchbacks from the bottom the the canyon to the top when we hiked out. So tough right now. Needless to say, it was a good week.
The group right before we started our hike in. We began at about 10 pm -- taking the hike in the day changes the nice little walk into a searing-sun death march, so hiking in the dark was a far better idea. We hiked in for about three hours then slept on the side of the trail before hiking the rest of the way in the next morning
From left: Matt, Nicki, Cassie, Paul, Rachel, Ryan
Matt and Cassie crossing the bridge into the village to grab our permit passes in the morning on our final hike in
First view of Havasu Falls.
Me and Matt playing around in Havasu Falls after we set up camp and went out to play for the day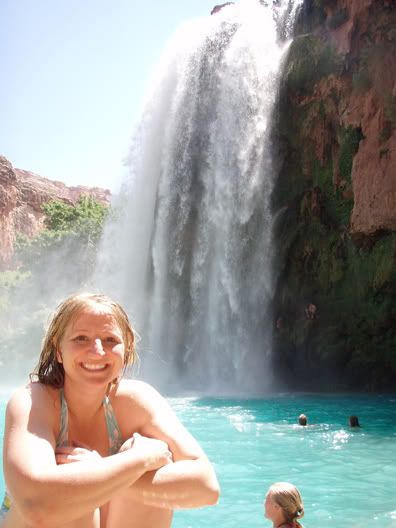 Oh my gosh it was so pretty!
Rock jumping at Navajo Falls (the second falls we visited)
Mooney Falls -- it was the most majestic of the falls.
This is what the decent to Mooney Falls looks like. You wouldn't know it from Cassie's smiling face in the picture above, but it's this super treacherous path that requires you to hang on to safety chains so you don't fall off. We made our way up and down this twice during our adventuring.
Hiking to Beaver Falls -- me and Cassie split ways from the rest of the group on the hike back through this valley, but I guess the other part of the group saw a rattle snake during their hike. Glad I missed out on that one.
Beaver Falls from above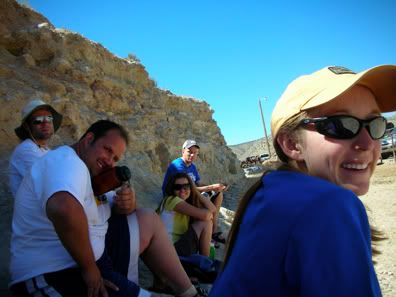 The rest of the group had their packs packed out by mules, so we chilled in the shade after we hiked out waiting for their packs to arrive via mules.
During the wait for the packs we eventually took refuge in the shade of some cars (we got kicked out of our shady spot on the rock) and I got creative during the 3+ hour wait.