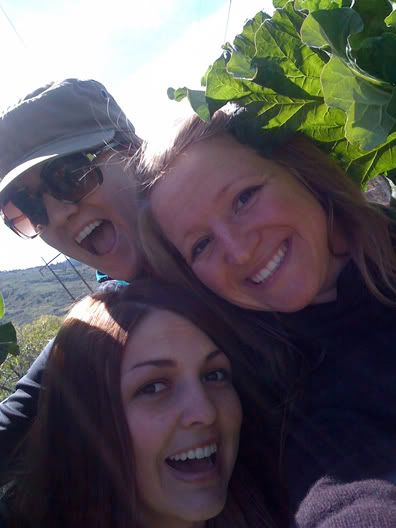 Along with being the first official "garage saling" day of the summer season, Saturday was also the first official "Pick fresh rhubarb and make dessert with it" day of my life. Up until this past weekend, I had only consumed rhubarb once, in a pie, made by
Scott's
mom. So, when Marie's psuedo-grandma, Sister Goesche, invited us to pick fresh rhubarb from her garden, we jumped on the charming opportunity. There is something to be said for picking food fresh then cooking with it. We made a pie and a tart with our lovely gleaned vegetable. Re-realization= I need a garden.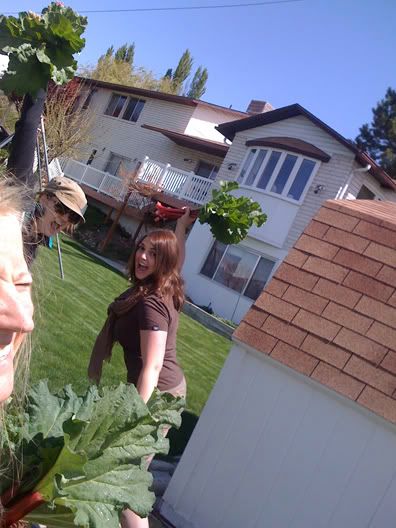 Nicki sliver, Katy and Marie with our bounty after picking the rhubarb. It really is such a pretty vegetable.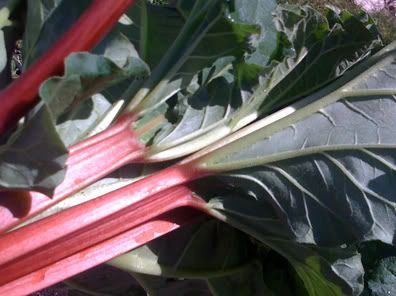 See. So pretty. Like red celery with WAY fuller and more beautiful leaves.
Kates in the garden.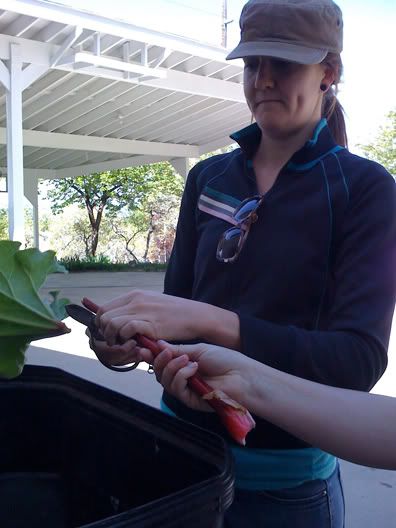 The snipping process. Taking off the leafy green part made it less pretty, but more portable.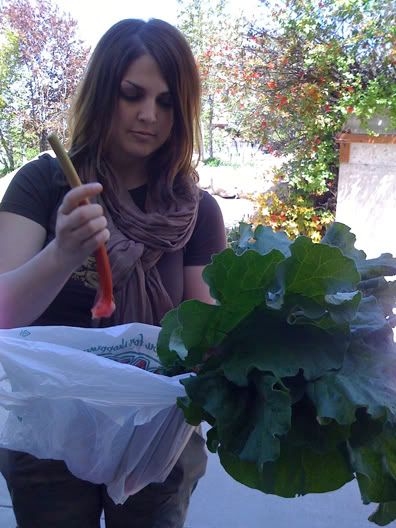 Marie-b with the bag of partially-snipped rhubarb.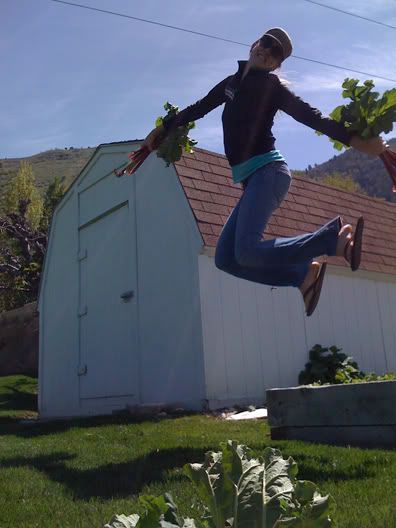 Kates jumping off the planter box. It was such a beautiful day Saturday. That last comment had nothing to do with the first comment, but it was definitely noteworthy.
One of the results of our efforts. We crafted a rhubarb pie and a rhubarb tart out of our spoils. I didn't get a photo of the tart, but it was equally delicious looking, only crumblier. One of the guys who came over to eat the pie said his girlfriend used to make it for him all the time; then, after eating a slice of our pie, commented "This is totally girlfriend worthy pie." Thank you, rhubarb-pie loving, man.
---------
SIDE NOTE: Photoshop is AMAZING!
I went climbing yesterday on a group date, and Matt (one of the guys who was there) took some shots of me on the wall. It was a bit dark, so the lighting in the photos was tricky.
Matt sent the pics my way today, and 3 minutes of Photoshopping transformed one of the photos from the photo on the left to the photo on the right.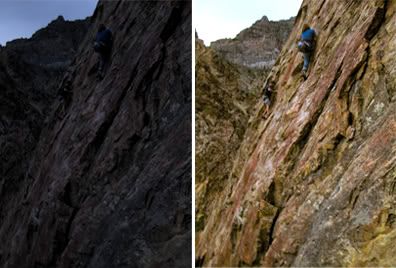 It takes the photo from "What the heck is that photo of?" to "Oh look -- there's Nicki climbing on a perfectly beautiful day." SO COOL! I love you, Photoshop.
Side note #2: I like this crop of the photo best.