The other Saturday, our church stake had a service project to do some gardening up at the Salt Lake City temple. Who knew I would ever be appreciated for ripping up beautiful flowers and putting them into trash bags to be recycled and used for mulch?
The project was nice, and getting my hands all dirt-ish made me feel really capable as a gardener, even though no gardening was actually involved. The people in charge just equipped us with shovels and latex gloves then had us clear out the old plants in three large flower beds to make room for the new, turn the soil in said flower beds, and lay down mulch for the new-comer flowers that I assume will be planted by another volunteer group in the next couple weeks.
I struggled throwing away the poppies they had us rip out of the beds. But we definitely had the prettiest looking trash I've ever seen.
The gardening group from our ward. You can see most of the volunteers who came that morning in small scale in the top picture.
From left: Amy, Mark, Katy, Me, Amy (a different one than before), Mary, Church (the man, not the edifice), Marie and Karalee.
Some of my fellow gardeners. We were only supposed to pick out certain plants from each bed, and then leave others to keep growing. This bed had to be rid of all daffodils, poppies, tulips and pansies. And can I just tell you that daffodils are THE MOST stubborn flower I have ever encountered. Seriously. Those babies take some serious effort to uproot.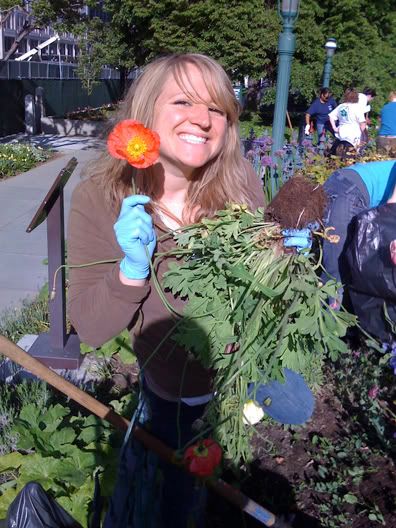 Me with one of the hard-to-throw-away poppies.