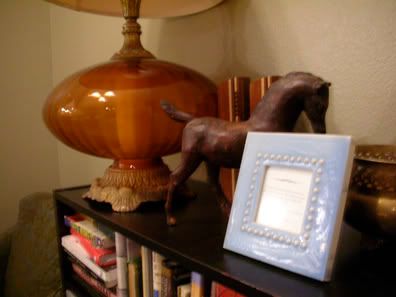 When I first got a hold of the condo, it was a beige haven; beige walls. beige ceilings. beige carpet. everywhere. Which is nice if you like to live in dining-room-carpeted blahsville, but surprisingly, I opted for change.
The timeline I was hoping to follow for the updating didn't go as smoothly as planned (staying up to the wee hours doing house stuff every night wasn't as fun as I had anticipated); so the bedrooms and bathrooms have yet to be painted. But the updating in the main area is complete (YES!). And I will be tackling decorating and painting the rest of the house over the next three weeks.
Here are the before, during, and afters from the last couple weeks. Painting. Flooring. And furniture.
before and during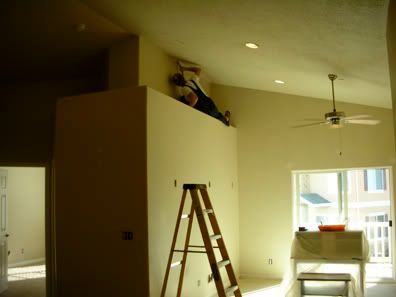 The aforementioned beige haven minus the carpet. We started with tackling the ceiling painting first.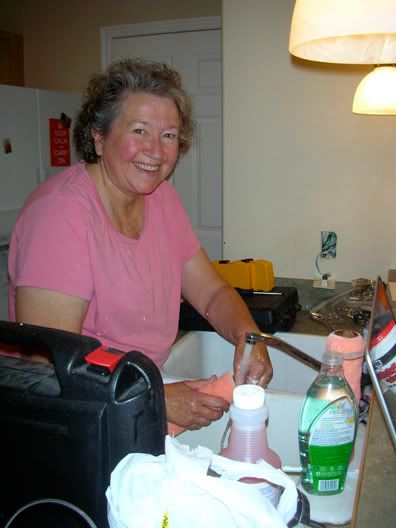 My saint of a mother drove from Colorado to bring me some family dishes and help me paint my apartment. 13 hours of driving for 18 hours of helping; what a babe.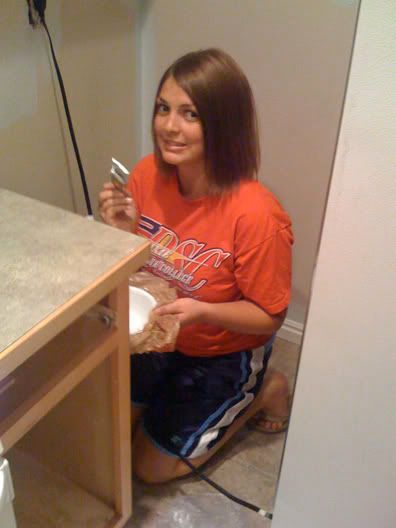 Marie painting the kitchen; lovely. Tons of friends came out to help paint and clean, and it was a lifesaver. Plus, it's way boring to do things by yourself. Thank you friendship.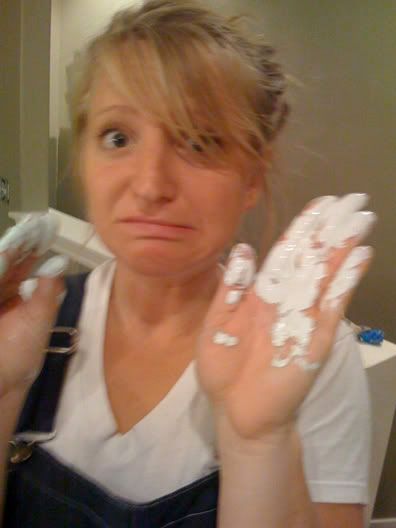 Messy painting fingers. We may have spilled the blue paint all over the kitchen sink. And you better believe I am wearing my favorite, recently-acquired pair of painting overalls.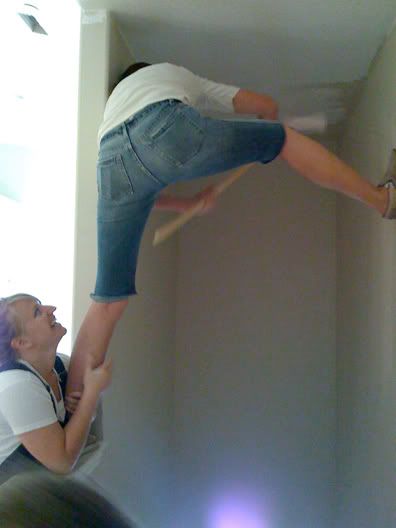 Hard-to-reach spots that needed to be painted required maneuvers like this. Kates got all she could with the extended paint roller while straddling the stair case (I held onto her leg for support), then we borrowed our friend Richard's ladder for the rest.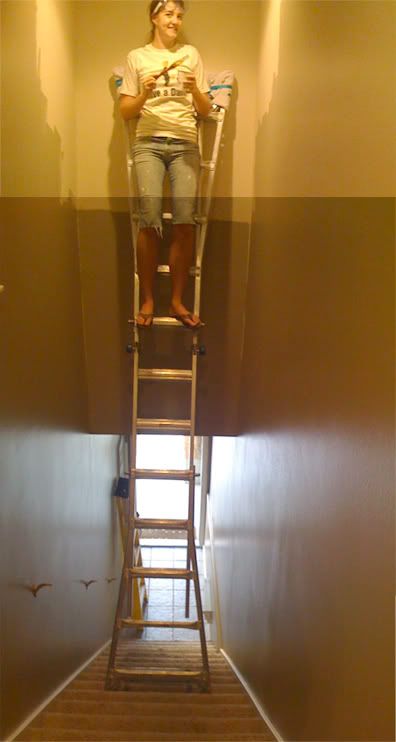 I may or may not have made dents in the wall setting this ladder up.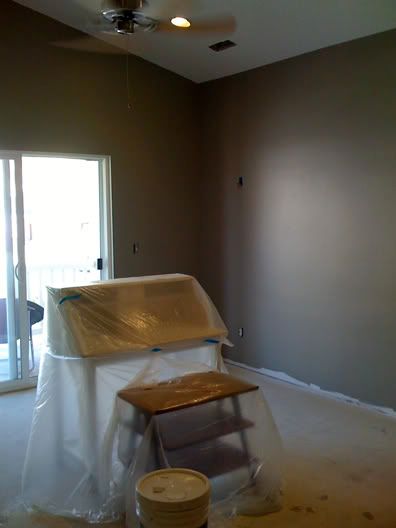 Painting completed. Olivewood is the color for the walls in the main area -- it's a classy grey with a green hue. It makes the space feel a little bit dark, but I really like it.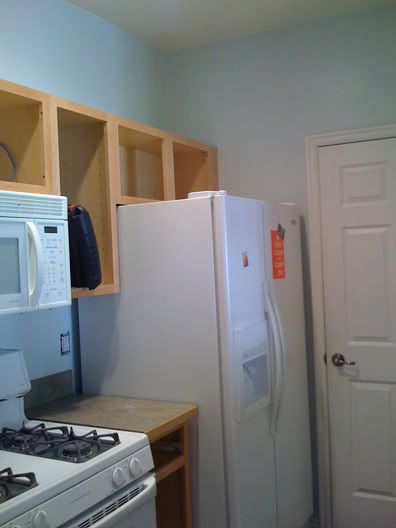 We went with a light blue for the kitchen -- it's called Limelight. Also turned out to be very delightful.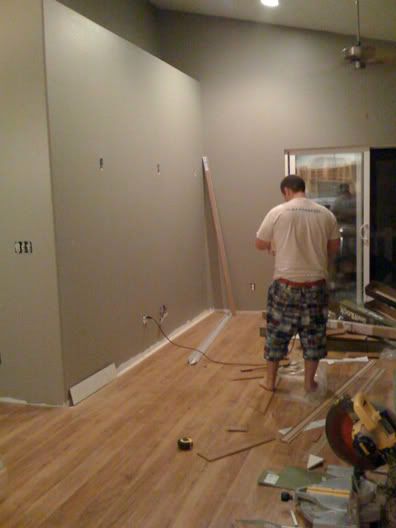 Flooring came next. I got the laminate on sale at Lowes, then my amazing friends Justin and Andrew (Andrew pictured above) helped me put it in.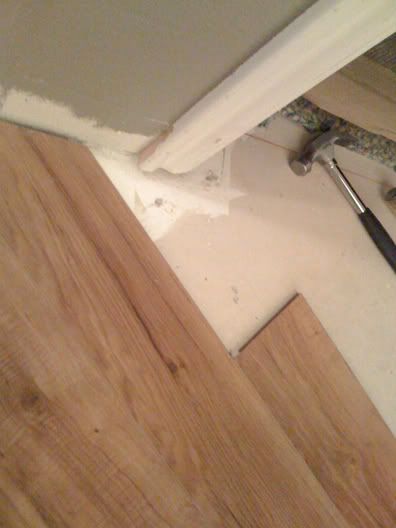 You would think putting in floor would be pretty simple, but you would be wrong. Little spots like this can get pretty tricky and multiple spots like this may require you and Andrew to stay up till 1:30 am making multiple diagonal cuts and doing lots of shimmying.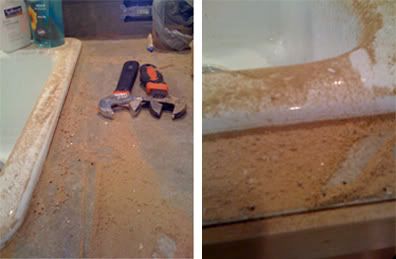 Cutting flooring creates A LOT of sawdust on your kitchen counter.
Sick.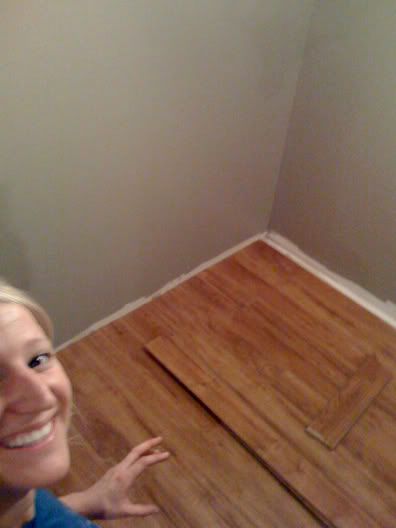 But the floor makes me very happy.
after (still a work in progress)
Here is where the house is at so far, at least the main living area part of it. I still need to do the bedrooms and bathrooms. Pics to come.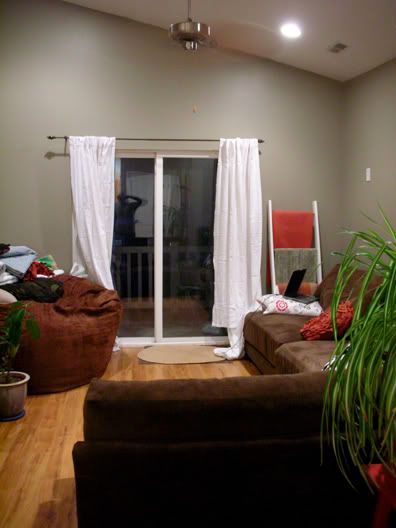 Livingroom with the brown-monster couches (they honestly eat you up when you sit in them)
Kitchen.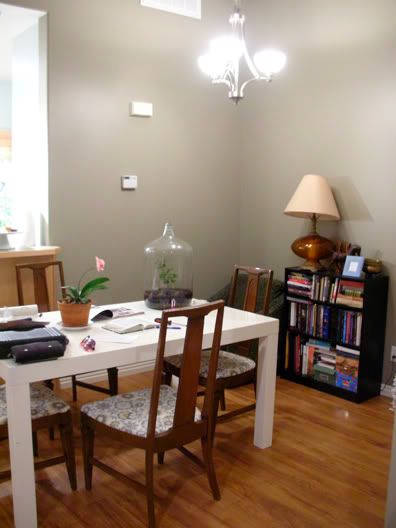 Dining room.
We still got a ways to go, but it's a start :) And it's my home. Fun.