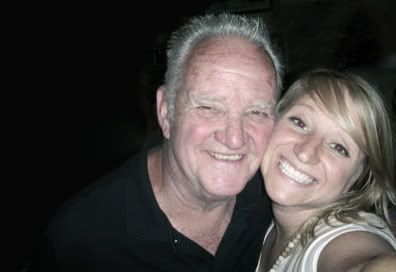 No super cool adventures involving pictures lately, but I did have a charming conversation with my dad
(pictured above)
last Sunday that I wanted to share.
I called him around 6pm to wish my dad a Happy 73rd Birthday, and after briefly conversing about the affects aging is having on his body, my dad and I discussed his birthday dinner my mom had cooked him.
"We're having prime rib," he said. "And baked asparagus."
"Ummm...delicious, Dad! Nice choice." I responded. Then, since I had never baked asparagus, I asked him how my mom had made it.
"Oh well...you heat up the oven to about 350, then you put some asparagus in a dish and sprinkle it with a little bitt of EVOO and then...(something something something)"
EVOO. Oh. My. Rachel Ray. I love it. Adorable dad.
---------
In other news, the elderly woman I visit with on Sundays (
Rita
) has recently been requesting that I paint her fingernails yellow. Not an easy order to fill. But! Awesomely, I found some yellow nail polish at Urban Outfitters on Saturday while shopping with Nate. So great. I decided to try it out yesterday for a test run, and it turned out to be the same color as corn. Which, surprisingly, is kind of awesome.
(see below)