In my mind, fondu always fit in the "chocolate fountain" category; something that can be fun during special occasions, and in small doses, but not as like an ACTUAL food. But last Thursday I was proven wrong...it's delicious. And actually, not all that unhealthy. Each week, either on Tuesday or Thursday, a group of us get together for something called "eclectic Tuesday (or Thusday, depending)," and we eat food together then go climbing. Last Thursday, Ali and KPAX decided to pull out their fondu pots, and we had both chocolate and cheese fondu for our delicious dinner.
Cheese dippers:
Potatoes (by far my favorite dippable of the night), broccoli, roast beef, ham and two kinds of bread.
Chocolate dippers
: Strawberries, pineapple, kiwi and bananas(?). At least I think there was bananas. Yes...it was bananas.
It really was a delicious night, and it has changed by perspective of fondu forever. Best part of the night? The base of the cheese fondu was a home-squeezed grape juice made from "squeezing grapes" that Ali grows at her home. How awesome is that?
Ali
(left)
and Brenna
(right, obviously)
with the fondu.
The cheese fondu. Mozzarella-based and delicious.
Matt, Brenna and KPAX with the best fondu faces money can buy. NOTE: KPAX is pulling the triple banana.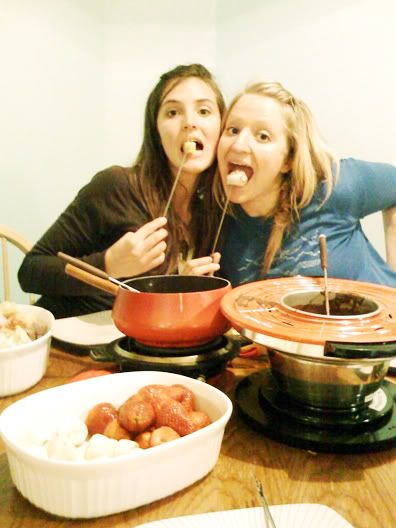 Me and KPAX enjoying a pineapple chunk and potato chunk, respectively.